Amazing Netizens There is a Starbucks Cup in the Latest Game of Thrones Episode
Amazing Netizens There is a Starbucks Cup in the Latest Game of Thrones Episode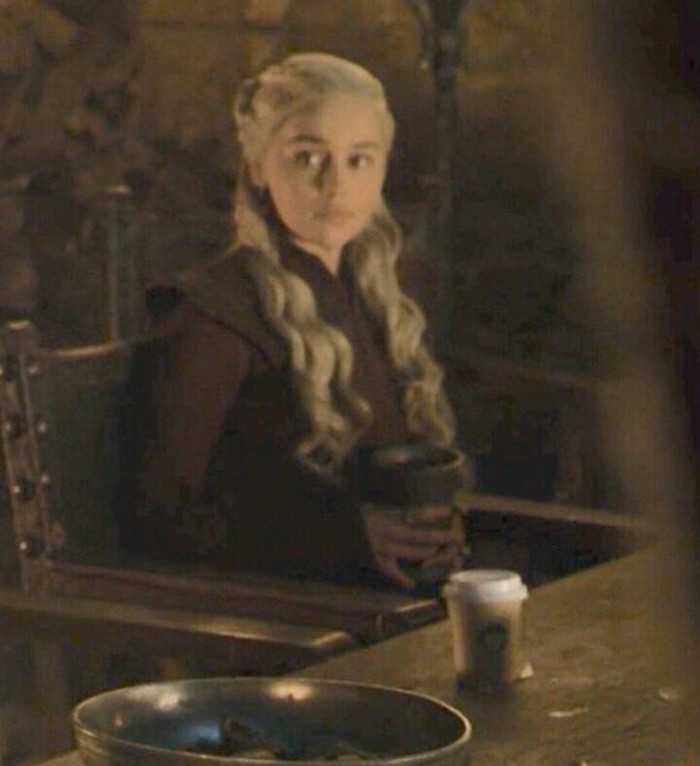 There is something interesting in one of the fourth episode of Game of Thrones season 8. In front of Mother of Dragon is a cup of Starbucks warm coffee!
The fourth episode of 'Game of Thrones' last season was the spotlight of netizens. Because there is a Starbucks coffee cup in one of the scenes in the episode 'The Last of the Starks'.
Most of the audience who were transfixed by the storyline of the episode would only see the face of Daenerys who was worried to see Tormund oppose the leadership expertise of John Snow. But some observant spectators who not only pay attention to the storyline of the series see an oddity.
They saw Starbucks coffee paper cups on the table right in front of Mother of Dragons. Loyal viewers who saw the Starbucks cup then uploaded their findings on Twitter. Until many netizens who helped share the same moment. Both those who saw it directly or who returned to watch and ensure the existence of the coffee paper cup.
Now that has become viral. Reported by Refinery29 (6/5), the mistake of tickling the crew behind the Game of Thrones screen made the audience confused. I wonder what caused the crew to not realize the presence of Starbucks coffee cups on the table during shooting.
However, some loyal viewers seemed to understand that because there was not much lighting used in making the scene. Even so, the 'leaked scene' is now circulating on Twitter and not a few creative netizens are making memes tickle.
"My favorite series in the whole world forgot to CUP STARBUCKS ON THE TABLE WHEN SHUTING," wrote a netizen.
"If they use lights, they might be able to see the Starbucks they left behind," another wrote.
One netizen even highlighted that HBO was also unaware of the Starbucks cup in the scene. "The GoT scene is so dark, you can't even see Starbucks paper cups," he wrote.
Seeing this excitement, the Starbucks actually wrote joking tone joking. "TBH we're surprised she didn't order a Dragon Drink," tweet @ Starbucks, which has now been distributed by 13.9 users.
Quoted from Teh Verge (6/5), one of the executive producers of Game of Thrones confirmed about the Starbucks cup in the episode 'The Last of the Starks'. He also apologized to his loyal audience.
"We are sorry," explained Bernie Caulfield on WNYC radio (05/07/2019).
The official Twitter Game of Thrones also tweeted about it. "News for Winterfell. The latte seen in this episode is a mistake. #Daenerys ordered a glass of herbal tea," the account tweeted.